I really, really, really wanted to see the Moab area before we headed back east so we spent a short 2 weeks there since it's not really close to any major airports for me to fly out of for work. Well, it was amazing.  Canyonlands and Arches national parks are nearby, each displaying gorgeous red sandstone cliffs and arches formed by a variety of physical and chemical erosions.  Carving by the Green or Colorado river, glaciation and tectonic changes all played a role in the variety of formations in the area. Moab is a mecca for mountain bikers, dirt bikers, jeep riders and climbers.
We stayed at the "OK RV Park".  We joked about the name: it was an "OK" RV park – not a bad one or a great one! There were several options for campgrounds and RV parks in the area, but all of the other ones were right on the main road (noisy!) and some were really expensive. We had gorgeous views of the La Salle mountain range (still snow-capped) and red sandstone cliffs. The park was filled with blooming trees and lilacs.
Moab is a funky little town which is growing like crazy. Initially just a mountain bike/jeep/rock climbing destination, it is now attracting more tourists every year for hiking, river rafting and, of course, the gorgeous state and national parks nearby. Touristy shops, restaurants  and outfitters abound, sprinkled with the occasional art gallery, coffee roaster or natural food store.
The vibe is definitely laid back. 
There was a lot of hiking available in and around town. One of our favorites was Hidden Valley: after climbing up a steep trail we ended up between two sandstone cliffs. The valley was flat and grassy and at the end we were rewarded with stunning views.
One day Sue hiked up Gold Bar Trail. After a steep climb the trail winds along a 1000-foot cliff to panoramic views of the entire Moab area. Expert mountain bikers will occasionally ride down this trail, and there are warnings to walk in some areas where several others have fallen to their deaths.
The long summer evenings allowed several more hikes not far from downtown Moab. Arches, petroglyphs and actual fossilized dinosaur tracks were everywhere.
Corona Arch The arch was pretty big, but then we thought back to a few nights before when our campground neighbor (who is the chief pilot at the local airplane sight-seeing company) showed us pictures of one of his pilots flying through the arch!  Yikes!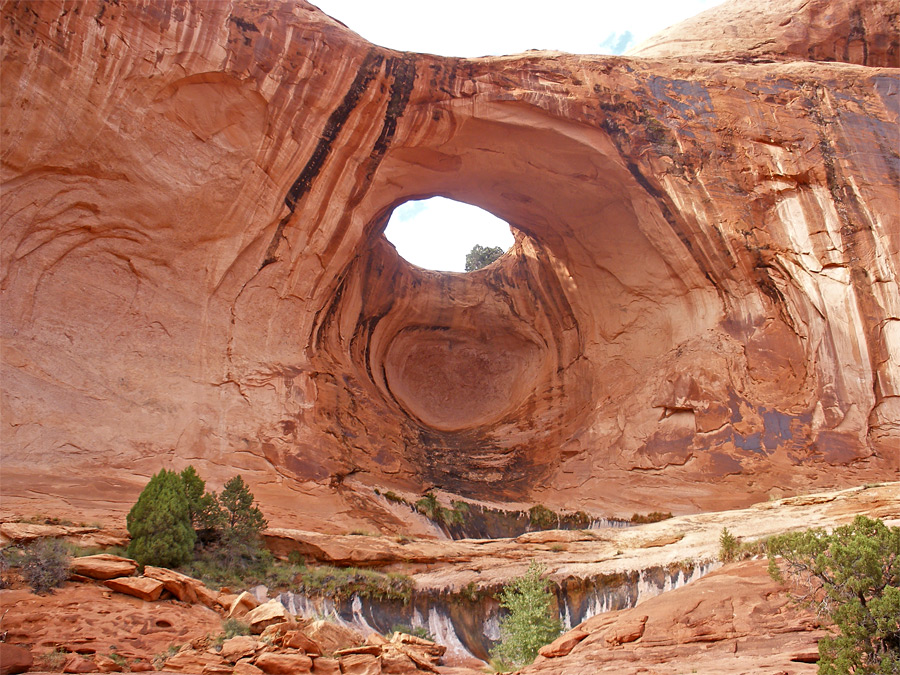 The road along the Colorado River was edged with tall cliffs that attracted climbers every day. We couldn't get a picture of them because the road was so twisty!
Arches National Park is literally in Moab. Even pre-season, it was best seen on a weeknight. There is only one main road through the park, and on the weekend cars were backed up and parking lots were full. There's lots of hiking there, too, which we hope to do another time.
We rented decent mountain bikes and spent a day at Dead Horse State Park.  The trails were fun and challenging with spectacular views.
Canyonlands National Park was too big to see in a day. Gorgeous red sandstone cliffs are a result of the Colorado Plateau being carved by the Green and Colorado rivers.
We have seen the Colorado river in California, Arizona, Nevada, Colorado and now in Utah, so we had to get out in our kayaks. Certain parts near Moab have class III and IV rapids, but we found a fun section we could do with our little boats. The current was swift and we got a little wet in some small rapids. We found out from the locals that if you stand along the road with a life jacket you will get a ride to your put-in spot – Jeff got a ride after about 10 seconds, so he didn't have to ride his bike from where we left the truck this time.
Now we're off to New Jersey to begin a summer visiting family and friends back east and attend my son's wedding in August!